UNDERSTANDING HEART
HEALTH
DOING YOUR PART TO MANAGE ASCVD
Having high levels of bad cholesterol (LDL-C) in your blood may cause cardiovascular disease (CVD) and atherosclerotic cardiovascular disease (ASCVD). Though finding a balance of treatment options and lifestyle changes to lower your bad cholesterol may be challenging, you don't have to go it alone. You can play an active role in your health by talking openly and honestly with your doctor.
There are many steps you can take to put your health first. You can:
Go to all follow-up healthcare appointments

Talk to your doctor about your health history

Ask your doctor how often you need to have your LDL-C checked

Follow any diet and exercise instructions from your doctor

Make sure you are taking your medicine as directed

Ask a friend or loved one, or find a support group, to help you stay on track
LOWERING BAD
CHOLESTEROL
TO WIN THE FIGHT, YOU HAVE TO KNOW YOUR ENEMY
Getting to know the causes and risk factors of high bad cholesterol (LDL-C) may give you some insights into how to manage it. Talk to your doctor. The more you know, the better you'll be able to determine what causes you can work on. Some of the causes may include: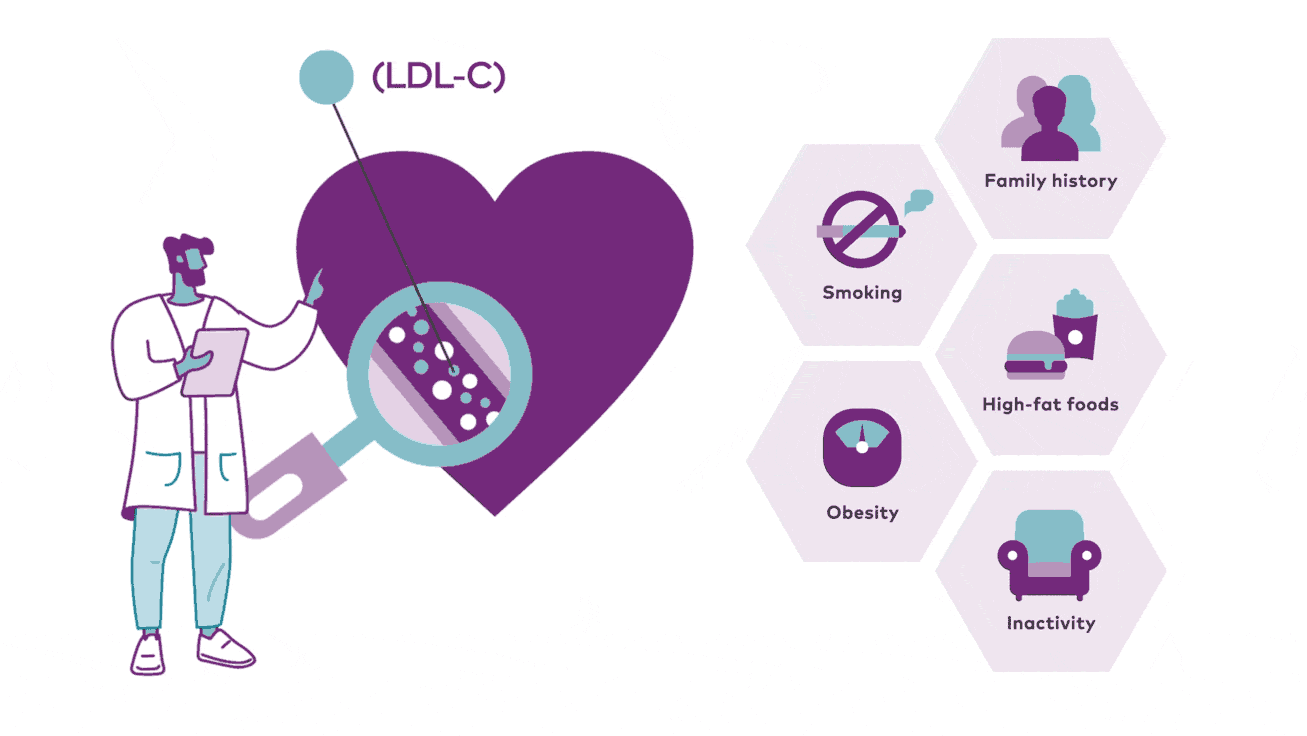 High Bad Cholesterol (LDL-C): The Risks
When ASCVD goes unchecked, it can result in a buildup of plaque on the walls of your blood vessels. This can lead to serious conditions, including the risk for heart attack and stroke.
Another potential issue related to bad cholesterol is heterozygous familial hypercholesterolemia (that's a mouthful!), or HeFH. This means you have a lifelong elevation of LDL-C. If untreated, HeFH may lead to early-onset ASCVD.
If you have ASCVD, it's important to lower your bad cholesterol. By identifying the steps you can take to get your bad cholesterol under control, including lifestyle changes, you can help lower the risk of serious cardiovascular conditions.
Are you taking statins, working on eating healthier, and finding ways to fit exercise into your daily routine? You should also monitor your cholesterol with regular testing and work closely with your health care team to stay on track. You might also consider talking to your doctor to see if LEQVIO® can help.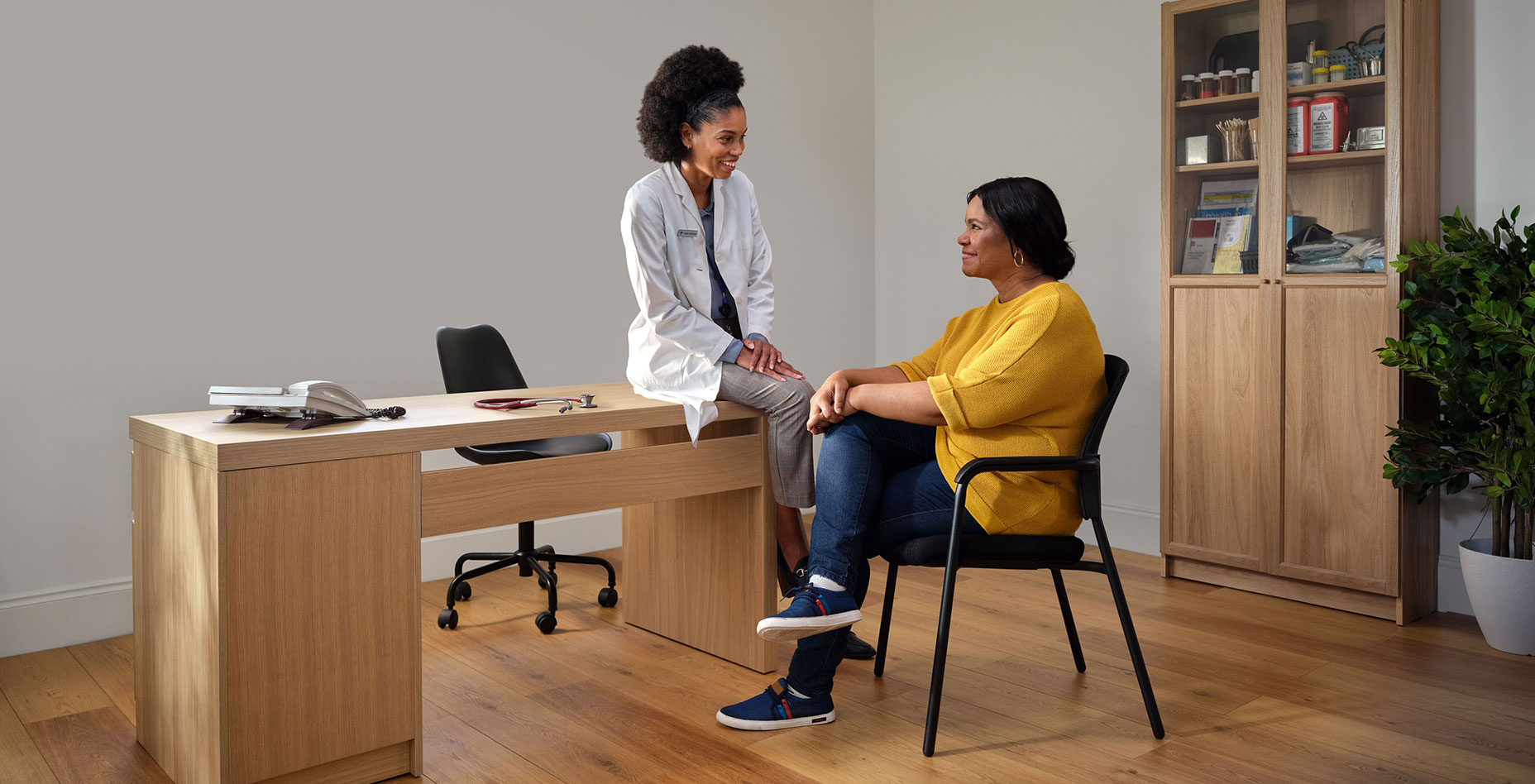 THE 2 TYPES OF CHOLESTEROL: WHAT'S THE DIFFERENCE?
WHY GOOD IS GOOD FOR YOU AND BAD IS NOT
High-Density Lipoprotein (HDL) "Good" Cholesterol
One reason this type of cholesterol is "good": it lowers your risk of heart attack and stroke. HDL carries bad cholesterol away from the arteries and back to the liver. There, it is broken down and passed from the body. But only one-quarter to one-third of bad cholesterol is carried by HDL, so it doesn't totally eliminate it.
Low-Density Lipoprotein (LDL) "Bad" Cholesterol
High levels of "bad" cholesterol (LDL-C) are linked to an increased risk of heart and blood vessel disease, including CVD and ASCVD, as well as an increased risk for heart attack and stroke. Consistently high levels of LDL-C in the body lead to a buildup of plaque on the walls of blood vessels, which restricts blood flow. The lower your LDL-C level, the better.
KNOWING YOUR CHOLESTEROL NUMBERS
LIPID PANELS: THE TOOL THAT PUTS YOU IN CHARGE
A crucial step in managing bad cholesterol (LDL-C) is testing. A lipid panel is a group of tests that measures the amount of cholesterol and other fats in your blood, including:
Total cholesterol

LDL ("bad" cholesterol)

HDL ("good" cholesterol)

Triglycerides (another type of fat that causes hardening of the arteries)
---
A lipid panel can be a helpful tool in predicting your risk for heart disease and stroke.
---
LIPID LEVEL ANALYZER
WHAT DOES YOUR LDL-C NUMBER MEAN FOR YOUR HEALTH?
Your LDL-C number is one of the measures your doctor will be looking at when prescribing a treatment to help bring down your bad cholesterol. That's why this easy tool can help you see what your LDL-C number means—and what you can do to stay on track with your health goals. Just click on the range of numbers below that corresponds to your most recent LDL-C number.
OPTIMAL


This is the goal you and your doctor are shooting for! Just have your number checked regularly and keep up with your treatment to make sure you stay on track. How do you keep your number this low? Focus on the positive changes you've made—the small steps that got you to this great place.
NEAR OPTIMAL


You're not completely where you want to be, but being near optimal means you're still doing well. Talk to your doctor about the simple steps you can take from here, like losing weight or some exercise. A great start could be swapping out some fatty or high-salt foods for heart-healthy options. Check some examples in the Food Swap Guide.
BORDERLINE HIGH


Even if you're making progress toward lowering your LDL-C, there's still a little more work to be done. But you can do it! Have a chat with your doctor and see how eating right, getting more physical activity, and keeping up with your treatment could be your next steps toward reaching your health goals. Here's a great tool that can help you start a conversation with your doctor.
HIGH


LDL-C numbers in this range may show you have a way to go to reach your optimal number. Just remember that it could take a short while for your results to kick in—so it's essential to keep up with your treatment. The key here to moving forward is to work closely with your doctor and get motivated, get inspired, and get answers.
VERY HIGH


It's true, being in this range increases your risk of heart attack or stroke due to high LDL-C. But don't be discouraged—look at this as just the start of your journey toward better health. By taking small steps, you can eventually reach your goal. And be sure to reach out to friends, family, and health care professionals for additional inspiration, support, and answers for reaching your health goals.
THIS TOOL DOES NOT PROVIDE MEDICAL ADVICE or collect personally
identifiable information. It is intended for informational purposes only and is not
a substitute for professional medical consultation, diagnosis, or treatment. If you
have questions about your lab results, talk to your doctor.
DEALING WITH MULTIPLE CONDITIONS?
YOU'RE UP TO THE CHALLENGE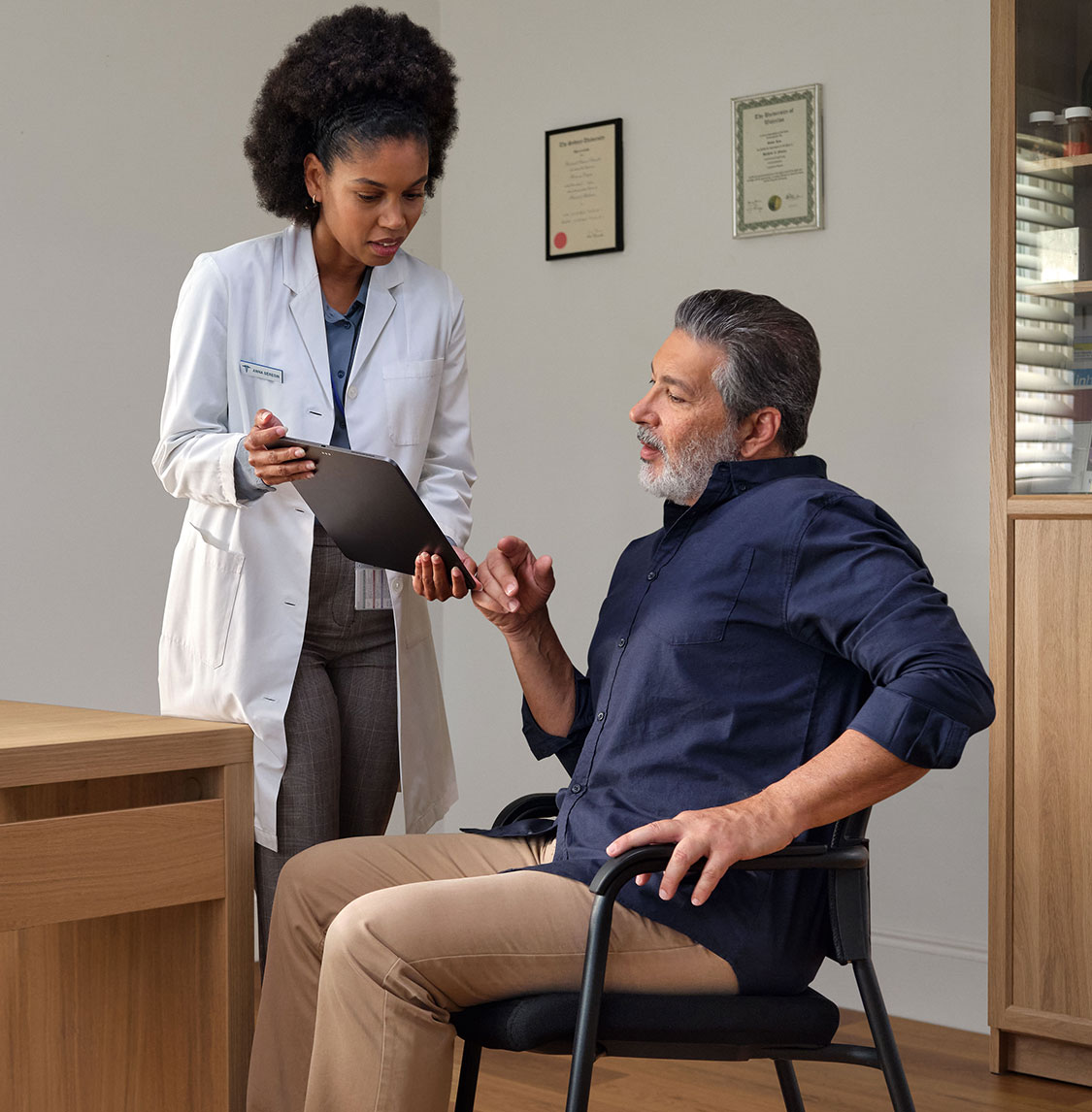 Everyone's health and body are different. Dealing with multiple conditions can be complicated, even overwhelming at times. It's important to be aware that certain conditions can put you at greater risk with ASCVD, such as high blood pressure (hypertension) and diabetes.
That's why working with your doctor to come up with a treatment plan that works for you and your unique health needs is key. Our medicine tracker, which can keep you on schedule with your medications, can also help. Whatever life throws your way, you can find a way.
TAKE CONTROL OF YOUR HEALTH
There are many things you can do to improve your health, even when facing challenges. Consider taking these positive steps to help manage multiple conditions:
Know your risk
Eat a healthy diet
Stay active
Lose weight
Quit smoking
Stick with your medications
Work closely with your
health care team
MORE RESOURCES
GET ADDITIONAL RESOURCES AND INFORMATION
Considering
LEQVIO?
Stay updated with all of the information you need to know about LEQVIO. If you are considering treatment with LEQVIO, ask your health care provider if it's right for you.
Sign up to
learn more
LEQVIO Care
Program
If you are on LEQVIO, discover tools and tips to help you lower your bad cholesterol (LDL-C).
Sign up for
the program