EVERY STEP TOWARD LOWERING YOUR BAD CHOLESTEROL
IS AN ACHIEVEMENT
What sets you on the road to getting the most from your treatment? Finding what works best for you. Wherever you find your motivation, keep these three things in mind to guide you throughout your journey:
Set realistic goals

Take small steps to reach them

Celebrate your wins along the way
TO HELP YOU ACHIEVE THESE GOALS, THERE'S SUPPORT FROM THE LEQVIO® CARE PROGRAM. IT'S DESIGNED WITH YOUR NEEDS IN MIND AND OFFERS:
One-on-one support from a dedicated Care Specialist

Tools to help track your cholesterol numbers

Healthy diet and lifestyle tips

Ways to stick with your medicine routine
---
If your doctor has
prescribed you
LEQVIO, sign up
now at start.LEQVIO.com. Or, call 1-833-
LEQVIO2
(1-833-537-8462).
---
The LEQVIO Care Program is a patient support program and is not intended to take the place of medical or clinical advice from your health care providers. Always talk to your health care team about what you're learning, and especially ask any questions you may have about your condition and treatment plan.
GET READY FOR YOUR DOCTOR'S VISIT
Have you set up your first appointment for your LEQVIO treatment? If you have, then congrats—that's an amazing first step! Take a look below at some things to keep top of mind for your doctor's visit.

LEQVIO is a simple injection given at your doctor's office.
After your first dose, you'll have a second injection in 3 months, and every 6 months (twice yearly) after that.
Wear comfortable clothing to your appointment in case you have some soreness at the injection site.
Bring your up-to-date insurance information with you to your appointment.
Tell your doctor if you've started any medications (prescription or over-the-counter) or if anything has changed. It can help to make a list ahead of time and bring it with you.
Ask your doctor questions and share any concerns you may have about starting treatment with LEQVIO.
TREATMENT CONVERSATION GUIDE
STAY ON TRACK BY TALKING WITH YOUR DOCTOR
With so much going on, it can sometimes be hard to remember to ask the questions that will help you make the most of your doctor's visit—and get the most of your treatment. That's why we've created this useful Treatment Conversation Guide. It can help you ask your doctor the right questions—about everything from treatment expectations to how to get closer to your health goals step by step.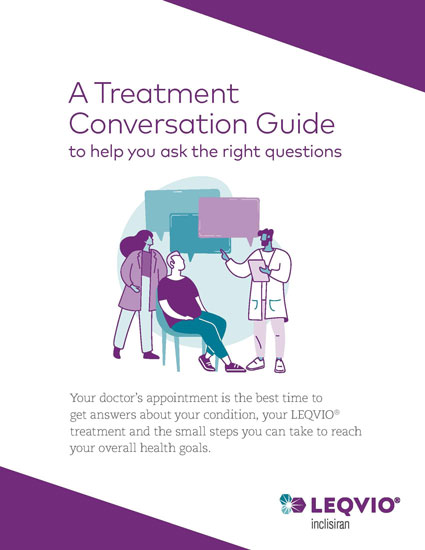 Get the
Conversation Guide
It's also a good idea to read the Important Safety Information about LEQVIO (you can find it on this, and every page). Be sure to your doctor know right away about any side effects after starting treatment.
MORE
RESOURCES
DESIGNED TO HELP YOU EVERY STEP OF THE WAY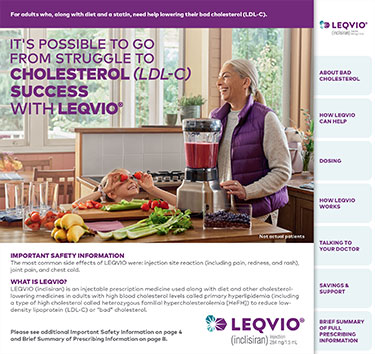 LEQVIO PATIENT BROCHURE
GET THE
BROCHURE
GET THE BROCHURE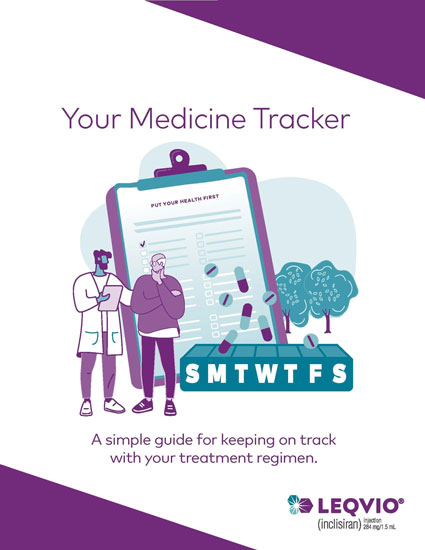 LEQVIO MEDICINE TRACKER
GET THE
TRACKER
GET THE TRACKER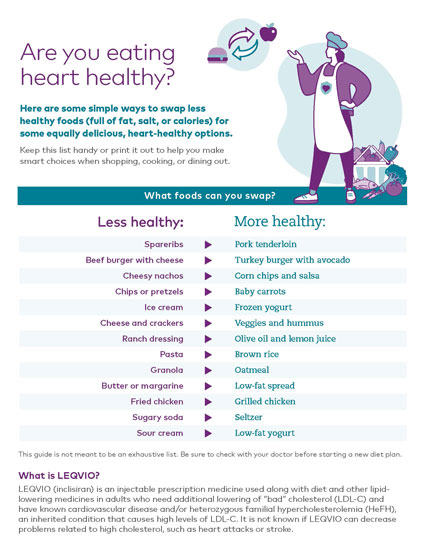 FOOD SWAP GUIDE
GET THE
GUIDE
GET THE GUIDE
Considering
LEQVIO?
Stay updated with all of the information you need to know about LEQVIO. If you are considering treatment with LEQVIO, ask your health care provider if it's right for you.
Sign up to
learn more
LEQVIO Care
Program
If you are on LEQVIO, discover tools and tips to help you lower your bad cholesterol (LDL-C).
Sign up for
the program